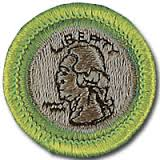 The Richmond Coin Club will hold its BSA Coin Collecting Merit Badge Class at 1:00 pm on Saturday, May 6th, at the Clarion Hotel (3207 N. Boulevard, Richmond, VA).
Show doors open at 10 am on Saturday. Come at least an hour early if possible.
Free Treasure Hunts between 10 am & 1 pm before the Merit Badge event.
Class time will be at least 2 hours.  No registration required. There is no cost for this event.
There are 10 requirements for completion. Be prepared to show completion of requirements 7 and 9. Just by coming to the RCC coin show, requirement 10 b is satisfied! If all 10 requirements are satisfied, we will sign off on your merit badge blue card. Don't forget your blue card (we have extras if needed).
Spend the day with us. Your brothers, sisters, parents & grandparents are welcome too!
We will also be conducting Coin Treasure Hunts throughout the day on Saturday. Our Treasure Hunt counts as part of your Coin Collecting Merit Badge requirements.
For more information click here.
We look forward to seeing everyone on May 6th!
John S. Philips
RCC Education Director
804-347-7082 (cell)